2022 Commitment to Justice Award
September 8, 2022 at 5:30 p.m.
---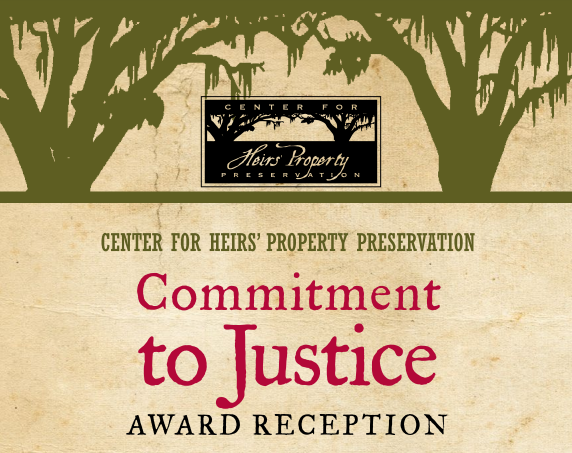 The 2022 'Commitment to Justice' Award – September 8th at 5:30 pm
The Center for Heirs' Property Preservation™  is proud to recognize Reverend Nelson B. Rivers, III as the recipient of this year's Commitment to Justice Award.  Reverend Rivers was born in the South Carolina coastal community of Bennett's Point and is a lifelong servant in the fight for justice.
As a minister, Reverend Rivers has preached at churches in twenty-three states and is the pastor of Charity Mission Church in North Charleston. He received his bachelor's degree from Wilberforce University in Ohio, which is the first private Black-owned and operated university in America. He was ordained at the Olivet Baptist Church of Christ in Fayetteville, GA by the late Dr. Howard W. Creecy, Sr.  He is pursuing his Master of Divinity at Erskine Theological Seminary, Due West, SC.
Reverend Rivers has received numerous accolades highlighting his commitment to justice which include the Order of the Palmetto, the state of South Carolina's highest award, induction into the South Carolina Black Hall of Fame, H. E. DeCosta Trailblazer Award by South Carolina African American Heritage Commission, and the Joseph P. Riley, Jr. Vision Award by the YWCA of Greater Charleston.
Reverend Rivers civil rights work led to the election of more than 300 new black elected officials in South Carolina between 1986 and 1994. His involvement with civil rights organizations includes the National Association for the Advancement for Colored People (NAACP) and the National Action Network (NAN). He also is a founding member of the Charleston Area Justice Ministry (CAJM), an organization that promotes justice through congregational work.
We hope you can join us in person at the Francis Marion Hotel for this incredible event on September 8th at 5:30 PM. To purchase tickets or sponsorships, simply click on the link below.
Click Here for Tickets and Sponsorships
The Center is indeed privileged to have this lifelong warrior and activist for civil rights, Reverend Nelson B. Rivers, III as the 2022 Commitment to Justice Award Honoree!   We appreciate your help and support for our critical mission.
---